Monday, January 7, 2008
How long will your store bought cleaner last you? A bottle of 409? Windex? How long? To clean your mirrors and windows for a month, will it take you 1-2 drops? Heck no, right? Well with
our cleaner
, it will. 1-2 drops, that's it.
Click to make the pictures bigger.
This is the size of the bottle if you
order the 16 oz
.
Click to make the picture bigger. This is next to my toaster oven. Not a small bottle by any means! Its super concentrated, it doesn't need to be that big to last a long time!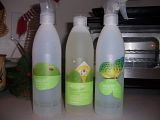 Should you decide to
get the spray bottles
(now comes in 3, I ordered them when it was only 2, they now include a Degreaser spray bottle), the bottles themselves are the same size as the cleaner bottle - 16 oz. See?
On each bottle, (which you can't see in my picture) it tells you how much to use for each use. Here's where jaws start to drop. Just 1/4 of a teaspoon of Basic H2 in the All Purpose Cleaner Bottle filled with water, and merely 1-2 DROPS of it in the Windows and Mirrors Bottle! In the new Degreaser bottle, you add only 1 1/2 teaspoons to a bottle full of water! I bet you can imagine how long this bottle will last you!!!!! Meanwhile, the cleaners over the counter are full strength and you're buying them AT LEAST once a month from continual use! So not only is our cleaner biodegradable, non toxic and safe for the earth, it's better for the earth because its concentrated, is bottled using less energy because its concentrated, costing you less to buy and get shipped to you, and uses less energy and resources for us to make and sell/ship to you. It's truly a win win situation.
Here are close ups of the labels. Click to see them larger.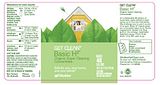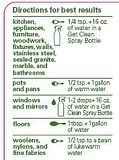 Does
this interest you
?
Want to save 15% on this and future orders
?
Want to learn more
?
Contact me today
!